For Thanksgiving, we served two turkeys — one brined and roasted and the other smoked — and a spiral-cut ham. Plus, we had zillions of sides. It was enough to make your pants split.
We plan to do the same for our Christmas dinner. What's a holiday season without gaining a few pounds?
Boring. That's what.
Here's the roasted turkey fresh out of the oven. That brine made it so tender and flavorful we all ate like we'd been stuck living in the wildnerness with the wolves for a few months and had been surviving on berries up until that point.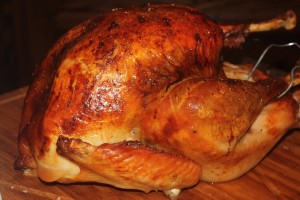 Then, we smoked one in this smoker — the 1400. It rocked. I don't like it too terribly smoky — just enough apple wood flavor to give it a little kick. It was perfect.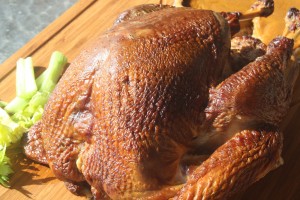 I had a hard time deciding which one I wanted to eat so, of course, I had both. Plus ham. Plus sides. Oy.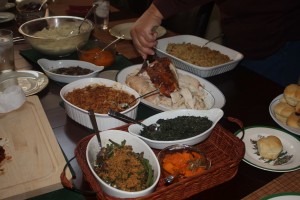 Yeah, we used our Christmas dishes. Wanna make something of it? We're not going to be at our house for Christmas so we wanted to use them at least once.
We'll probably break them out for the kids' chicken nuggets in the coming weeks, too. We are totally getting in the spirit around here.
How about you? What are you planning to serve for your holiday dinners?