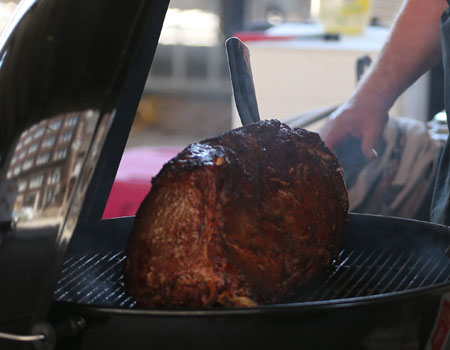 If you know how to season a steak, it makes all the difference in the world.
First, choose a steak of great quality, then comes the seasoning.
Steaks always taste better, in my opinion, when they are rubbed with a little love.
And of all the great steak recipes out there, a good rub is absolutely key.
This "Dr. BBQ's Simple Steak Rub" below is just that – simple.
It brings out and enhances the natural flavor of your steak. It's like creating Steak 2.0!
Ray Lampe (a.k.a. "Dr. BBQ"), who created this recipe, was inducted into the BBQ Hall of Fame in 2014. He has appeared on the Food Network, Travel Channel and Fox Sports Network cooking BBQ competitively.
In short, he knows his stuff.
Wanna take your steaks to the next level? Dr. BBQ's Simple Steak Rub is the way to go.
Try this recipe and see for yourself!
Ingredients
1 tbsp kosher salt
1 tbsp coarse black pepper
1 tsp chili powder
1 tsp granulated garlic
1 tsp granulated onion
1/2 tsp ground coriander
1/2 tsp sugar
Directions: Defrost the steaks overnight in the refrigerator. Take the steaks out of the refrigerator 30 minutes before you plan to cook. Prepare the grill to cook hot and direct. In a small bowl combine the salt, pepper, chili powder, granulated garlic and onion, coriander, and sugar. Mix well. Season the steaks liberally with the rub on both sides. You may not use the whole batch of rub. Put it in an airtight container and store it in a cool dry place until next time. Place the steaks on the grill and cook for 3-4 minutes until well browned. Flip the steaks and cook another 3-5 minutes until the steaks reach an internal temp of 125f for medium rare. Transfer to a platter and rest for 5 minutes before serving.
Makes four man size servings