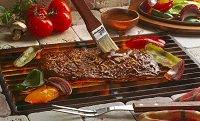 Beef and tailgating, well, they just go together. And – lucky us – both are in season!
Take this First-and-Goal Flank Steak (above), for instance. It's got the yum factor as well as the wow factor. You can see its beefy recipe here.
That will certainly feed a crowd!
Next, you can serve Hail Mary Meatloaf. I mean, who doesn't like meatloaf? Very satisfying – especially as temperatures begin to drop.
But my favorite is any Kansas City beef – steaks,  burgers, dogs, everything! Throw them on a portable grill and you're good!
Tell me, what's your dream tailgating menu?
Photo courtesy of H.J. Heinz via About.com.