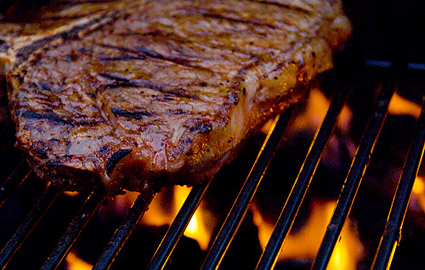 So, according to a recent survey done by the Cattlemen's Beef Promotion and Research Board, 62% of us want BEEF! for Valentine's Day.
Self-serving? Maybe. But most definitely true.
Here's more of what that survey found:
When you're cooking up romance for your Valentine's Day dinner, the numbers indicate you should pony up for the tiny but tender filet mignon. The Cattlemen's survey says 53 percent of Americans associate this cut with candelight dinners, and 50 percent with saying "I love you" over a meal.
Still suffering a little bit from that big holiday spend? The less expensive ribeye got 35 percent of the vote, with a tasty T-bone grabbing 32 percent of American tastebuds for a romantic Valentine's Day dinner. And you can always cook it at home to save some cash, and up the romance.
Seriously, go here if you haven't already and order some steaks. Apparently, your sweetie is expecting it.
And you don't want to disappoint.
Excerpt and photo courtesy of News.Holidash.com.