It's officially holiday time! Have you finished YOUR shopping? I know, I know. Everyone is asking that question. It's a legitimate question, though.
So have you?
If you're like me, you think you've finished but there's always someone nice you forgot. We're crazy busy these days.
Or maybe you haven't even started. Hey, that's cool. No one wins a prize if they finish first. It's a marathon, not a sprint.
So if I may, might I make a suggestion to help you finish up that list?
Gourmet food!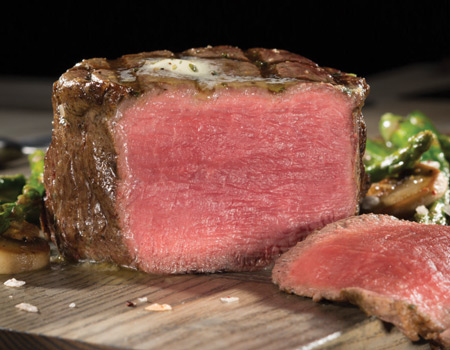 Everybody enjoys food. Seriously. So why not gift them something they'll appreciate? Steaks fall into this category quite nicely.
Here are some gourmet gift ideas under $100:
Ever tried Crown Filet Mignon™? It's cut thicker so it's tall and juicy and very impressive. They'll love it!
How about Bone-in Tenderloin Filet? The bone adds fantastic flavor and creates a gorgeous presentation. This makes YOU look good.
Kansas City Strip Steaks. They're a great gift for those who want something hearty and tender.
There are all types of steak that would fit into the under $100 category, but there are lots of other gourmet gifts that are fantastic, too. Steak is not the only option – just my favorite!
How about a beautiful cutting board for the at-home chef?
Or a Prime Rib Roast or Whole Turkey?
Rack of Lamb is a definite gourmet gift that they will remember for years to come.
How about some very nice steak knives? You know, to go along with all those steaks.
There are many, many choices in this category. Need more inspiration? Check out this Gift Guide for gourmet gifts under $100. There's sure to be something for everyone on your list.
You really can't go wrong with the gift of good taste!