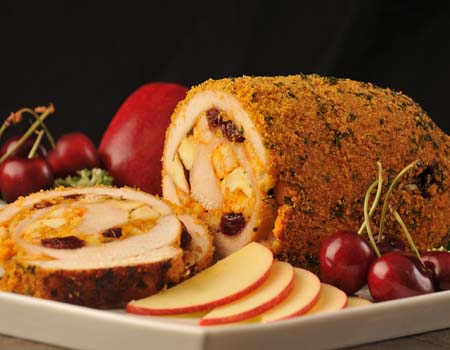 The guests are coming! The guests are coming!
Overnight guests = lotsa cooking.
And it's not just the holiday meal we have to prepare for, it's multiple breakfasts, lunches, dinners, snacks, appetizers, desserts – it's non-stop eating!
I KNOW it's not just my family.
So I like to try to be kind to myself and get a game plan ahead of time.
My go-to dinners? Burgers (always easy and always a hit) and Bake & Serve meals like the Roast Chicken with Apple and Tart Cherry you see above.
So tasty – and you just pop them in the oven! Voila! Gourmet!
Check out other tasty Bake & Serve ideas here like Beef Wellington and Chicken Cordon Bleu.
And have a merrier holiday without all the stress!
Photo courtesy of KansasCitySteaks.com.