Ever wonder what the heck "gratin" is anyway? I did. I'm intimately familiar with potatoes au gratin, but I knew gratin had other connotations also. I just couldn't put my finger on exactly what.
So, once again, I turned to my trusty Wikipedia. Here's what it says . . .
Gratin
From Wikipedia, the free encyclopedia

Gratin adapted from French cuisine is a type of casserole dish that is covered with Béchamel sauce or Mornay sauce, topped with buttered breadcrumbs or grated cheese and either baked or broiled, then served in its baking dish with a golden crust. Cooking au gratin is a technique rather than exclusively a preparation of potatoes (which is specifically a gratin dauphinois): anything that can be sliced thin, layered with a cream sauce and baked is material for a gratin: fennel, leeks, crabmeat, celeriac, aubergines.
So, the Ribeye Gratin dish I tried called for spinach and cheese to create the gratin (along with lots of other yummy ingredients.)
I'm thinking of a new ad slogan for it now:  Gratin:  It's not just for potatoes anymore.
Okay, so it never really WAS just for potatoes. My slogan is still in the working phase, people.
Anyhoo, THIS gratin recipe started off with some tender, thick ribeyes.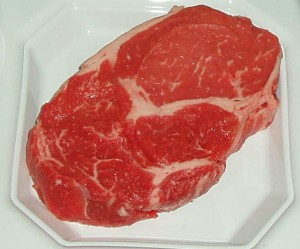 Then, we made the gratin (just look at that gorgeous spinach!).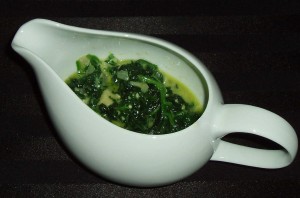 And here is the final finished meal. This cheesy, spinachy gratin really created some wonderful texture and flavor and complemented the steaks really well.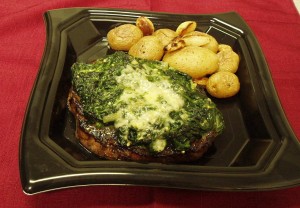 Try it for yourself!
Ribeye Gratin
4 10 oz. Ribeye
2 Cups Spinach, chopped
½ Cup Gruyere Cheese, grated
2 Tbsp. Dry White Wine
1 Tbsp. Shallot, minced
1 tsp. Garlic, minced
Saute the spinach in the white wine until wilted.  Add the shallot and garlic and cook 1 more minute, remove from heat and toss in the cheese. Grill steaks to desired doneness (about six minutes per side for medium, rotating a quarter turn every three minutes to create the cross hatch grill marks.)  Top each steak evenly with the spinach mixture and place under a broiler until the cheese turns golden brown, about 30 seconds.  If you don't have a broiler, you can melt the cheese in the oven but ensure you undercook your steaks before placing them in the oven to avoid over doneness.