It's always interesting to create a dish with ingredients you don't use on an everyday basis. It really kicks things up a notch.
We tried a recipe for Miso Ginger Ribeye that was absolutely to die for!
Miso is a really flavorful Japanese food you can use to make sauce. There are a number of varieties of miso and we chose red miso this time. It works great with steak.
Normally, miso can only be found in specialty food stores. So if you can't find miso you can substitute hoisin, which is usually easier to find.
If you want to expand your mind, click here for Wikipedia's full description of miso.
For our recipe, we started with some gorgeous ribeyes.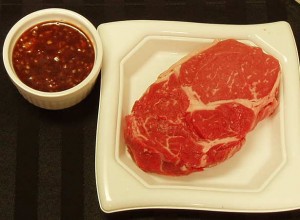 Then we added the miso ginger sauce mixture.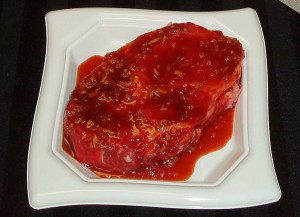 And after some masterful grilling, here's what it looks like when it was ready to serve.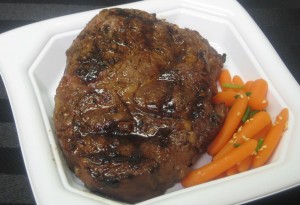 Is that gorgeous or what?
Here's the recipe. Let me know YOUR thoughts when you make it!
Miso Ginger Ribeye
(Serves 4)
4 10 oz. Ribeye Steaks
2 Tbsp. Fresh Ginger, minced
3 Tbsp. Red Miso
2 Tbsp. Honey
1 Tbsp. Soy Sauce
2 tsp. Garlic, minced
1 tsp. Chile Sesame Oil
Combine ginger, miso, soy, honey, sesame oil and garlic in a bowl and stir until a smooth paste is formed. Spread mixture evenly on both sides of Ribeyes and let sit 4 hours or overnight. Grill steaks to desired doneness (about six minutes per side for medium, rotating a quarter turn every three minutes to create the cross hatch grill marks.)