If you celebrate Christmas today, have a merry, merry one!
More and more families are celebrating this day with a sumptuous steak dinner.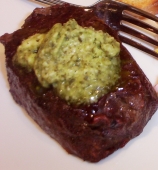 This photo is of a luscious filet with herb butter. The rest of the menu consists of a creamy potato casserole, carrot pineapple salad, a brie with cherry chutney as an appetizer and a caramel banana cream pie for dessert.
Does yum come any bigger than that?
Check out all the recipe details here and don't forget to let me know what you think!
Photo courtesy of Linda Larsen at BusyCooks.About.com.