Hi, there!
We just got back from a week in our personal definition of paradise — Destin, FL.
Here's a little video of what we saw and heard all day every day. (Don't blink or you'll miss it.)
Our family gathered there for the holidays and hoo boy did we have some great meals!
My sister-in-law Sandy (aka the Kitchen Guru) lead us through the makings of some amazing meals. We're all still talking about the food we had over the course of an entire week.
Beef tips in red wine sauce. Seasoned beef kabobs on the grill. Bacon-wrapped filet mignon. Prime rib roast in an au jus.
You would not believe the amount of beef this group consumed.
And there was nothing left.
We had family in from across the country. And there's nothing like a fabulous meal to build a bond.
But you won't have to travel anywhere to learn what I learned working with Sandy the last week. Over the next few days I'll be posting photos, recipes and meal-saving tips she shared with me as we cooked incredible meals for our family.
Here's a little preview . . .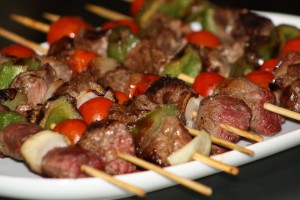 Yup. We even used Christmas colors. Stay tuned and happy holidays!!