I love the thought of "old-fashioned" anything because it brings back a time in my mind when people didn't worry about fat grams or carbs or any of that stuff.
The question simply was, "Does it taste good?"
Try these with your next steak or steakburger meal and let me know the answer!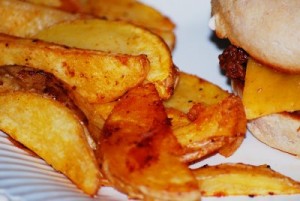 old-fashioned steak fries
an original recipe by rachelle
4 baking potatoes, scrubbed well
1/4 cup oil
1 teaspoon salt
1/2 teaspoon pepper
1/2 teaspoon paprika
1/2 teaspoon garlic powder
preheat oven to 450 degrees. halve potatoes lengthwise and then cut into steak fry sized slices. leave those skins on! if you've got mahusive potatoes, you may halve them again. but i like the idea of a mahusive fry. toss the potatoes in a ziptop bag and dump in the oil, salt, pepper, paprika and garlic powder. smoosh it all together and dump out on a cookie sheet. roast for 25 minutes: roast ten minutes, turn over the fries and bake about fifteen minutes more.
Recipe and photo courtesy of foodbuzz.com