It's getting nippy out there. (It is November, incidentally.) And it's time to start making those favorite meals that warm us up inside and out.
Try this great recipe for Beef Pot Pie. Your whole family is sure to love it!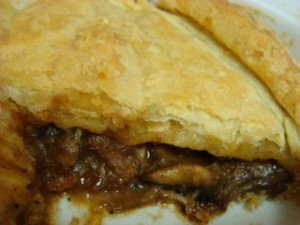 Beef Pot Pie
(Serves 4)
1 lb package beef tips
1 Cup Red Wine
1 Onion, medium dice
½ Cup frozen corn
½ Cup frozen peas
1 Cup sliced mushrooms
1 Potato, diced and boiled
1 Carrot, medium dice
2 Celery stalks, medium dice
2 Tbsp. Butter
2 Tbsp. Flour
2 Cups Beef Stock
Salt and Pepper
1 12 inch circle of puff pastry
In a heavy bottom saucepan, sweat onions, carrot and celery in butter.  Add mushrooms and cook until done.  Add flour and cook until the flour taste is gone, about 5 minutes.  Add beef stock, a little at a time, stirring constantly.  Cook until thickened, about 5 minutes.  Add corn, potatoes and peas, season to taste and place in a pie pan. Cover with puff pastry and bake at 350 degrees for 2 minutes.  Remove from oven and let sit 15 minutes before slicing.
Photo courtesy of a-good-eye.blogspot.com.