There is something in the U.K. called the "Steak Appreciation Society." I must delve into this more deeply.
But for now, here is something they have unearthed that may revolutionize your steak cooking from this day forward. . .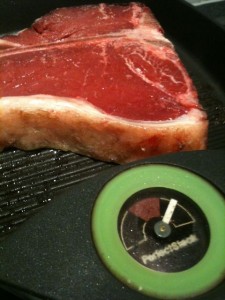 Or not. You decide.
It's called the Perfect Steak cooker and it has a grill and timer to help you cook – you guessed it – that perfect steak every time.
It's available on Amazon.com here:  http://www.amazon.co.uk/Perfect-Steak-temperature-vegetables-perfection/dp/B001644WLM
Note the U.K. URL. Apparently they have really good stuff over there that we don't have. Jealous.
Check out this device and let me know what you think. In the meantime, I shall investigate this Steak Appreciation Society and report back.
Is it weird that I'm starting to talk like Harry Potter now? Hmmpf. I can't help myself.
Photo courtesy of SteakAppreciationSociety.com.