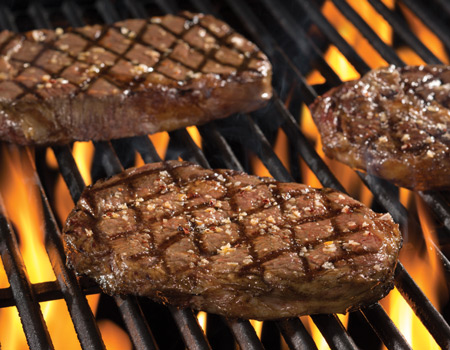 My absolute favorite steak is the ribeye. It's meaty, it's loaded with flavor and I crave it.
High heat and quick grilling is the best method for these yummy steaks. You can check out more cut-specific cooking tips here. The ribeye deserves respect and attention so I always give it what it deserves – you know, before I devour it.
You can do the same. Try this amazing Grilled Ribeyes w/Chipotle Lime Paste and Flavored Butter recipe. This is a great enhancement to the flavor of the cut and it's absolutely delicious! Respect the meat!
Ribeyes are special. And when you've got the right process and the right recipe, grilling steak has never been so fun!
Grilled Ribeyes w/Chipotle Lime Paste and Flavored Butter
Ingredients:
2 tbsp. vegetable oil
1 tsp. ground coriander
1 tsp. ground cumin
2 tsp. minced chipotle chilies in adobo sauce
1/2 cup frozen limeade concentrate, thawed
1 tsp. seasoned salt
1/2 cup chopped fresh cilantro
1/4 cup softened butter
4 (1″ thick) Ribeye Steaks
lime wedges
Directions: Heat a small skillet over medium heat. When hot, add oil, coriander and cumin; cook until spices sizzle. Add chipotles, limeade, salt and cilantro; simmer (uncovered) until reduced to a thick paste about 3 to 4 minutes. Cool. Remove 2 teaspoons paste and stir into softened butter. Place on plastic wrap and form into a 1/2″ thick square. Cover and place in freezer until needed. Rub remaining paste into both sides of Ribeyes Steaks; place in gallon-sized zipbags (2 steaks per bag) and seal, forcing air out of bags. Refrigerate for 4 hours, turning bags occasionally. Remove bags from refrigerator 1/2 hour before grilling and keep at room temperature. Place steaks on hot grill and sear both sides; reduce heat slightly ( or raise grill rack for charcoal) and cook until desired doneness, turning once. Remove butter square from freezer and cut into 4 equal parts. Top each steak with a flavored butter pat and garnish with lime wedges.
Servings: 4
Source: The Kansas City Steak Company