I truly love Salisbury Steak. The rich flavor of the gravy gets me every time.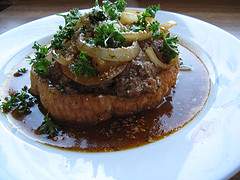 But the ONE TIME I tried to make it (early in my marriage) was a disaster. Read about it here. We STILL talk about it 11 years later.
But it hasn't soured me on the meal altogether. I just need a new recipe.
Or someone else to cook it.
So today we're in luck because here is a fantastic recipe for Salisbury Steak and the photos were taken after someone else cooked it. Hooray!
Ingredients:

Salisbury steak-
1 lb ground beef
1/3 cup minced onions
¼ cup cracker crumbs (or bread crumbs)
1 egg (slightly beaten)
1 ½ tablespoons prepared horseradish
1 teaspoon salt
1 teaspoon pepper
3-4 tablespoons butter

Gravy-

1 onion (sliced into rings)
1 teaspoon sugar
2 cups beef broth
1 tablespoon garlic (minced)
1 tablespoon tomato paste
½ teaspoon dried thyme leaves
2 tablespoons flour
¼ cup dry red wine
Parmesan Cheese (for garnish)
Minced parsley (for garnish)
Cooking Instructions:

Step 1: Combine ground beef, minced onions, cracker or bread crumbs, egg, horseradish, and salt and pepper. Shape into oval patties.
Step 2: Heat 2 tablespoons of butter in a skillet. Cook patties until they are no longer pink inside, about 7-8 minutes on each side. Remove from pan.  (Or if you want, you can grill them.)
Step 3: Add onions and sugar to the pan and sauté for about 5 minutes. Stir in garlic and tomato paste. Sauté for 60 seconds or until paste is browned. Sprinkle the onions with flour and cook for 60 seconds. Stir in beef broth, wine, salt and thyme. Return your patties to the pan and simmer for 10 minutes.
Step 4: Serve patties on top of cheese toast and top with sauce, onions, fresh parsley and parmesan cheese.
Photo and recipe courtesy of BlogChef.net.