Doesn't that name just SOUND intriguing?
And delectable.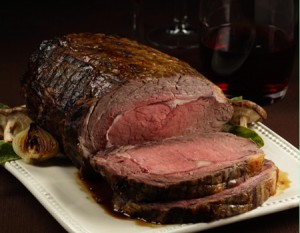 My mouth is watering just thinking of the flavor of a juicy prime rib with a salt crust. Hoo boy!
Try this one this weekend and let me know how it tastes! (As if I can't already imagine it. . . flavorful, tender, yummy . . . )
Salt Crust Prime Rib
(serves six to eight)
1 5 lb. Prime Rib Roast
6 Cups Kosher Salt
3 Egg Whites
1 Cup chopped fresh herbs (parsley, chives, thyme etc.)
Fresh Ground Pepper
Mix the Salt and egg whites in a large bowl to create a stiff, snow-like consistency. Cover the roast with pepper and the herbs. Place one third of the salt in a pan and place the roast on top. Pack the rest of the salt around the roast until it is completely covered and encased tightly. Cook in a 350 degree oven for 25 minutes per pound of roast or until a thermometer reads 130 degrees. Remove from the oven and let stand 30 minutes before slicing. Remove the salt crust at the table with a hammer for a dramatic flair.