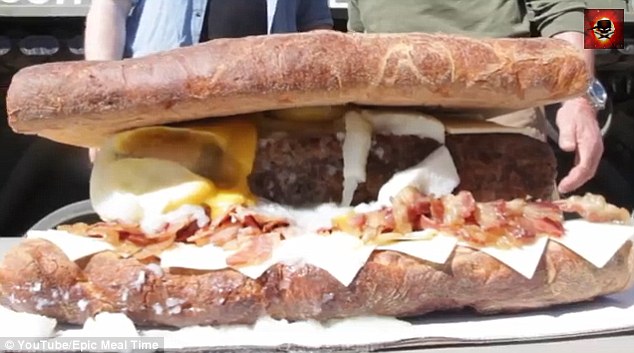 Have you ever seen such a monstrosity?
This steak sandwich has 80,583 calories and contains cheese, steak, bacon and ostrich eggs!
Now WHO would attempt to eat a sandwich like this?
None other than Arnold Schwarzenegger – THE TERMINATOR.
"This sandwich will be so meaty," Arnie says, "it will make a weak man cry."
I'm crying already and I haven't even attempted it.
Not that I will.
I LOVE beef but this amount is too powerful for me.
How about you? Wanna see more of this "Steak & Egger Sandwich?" Click here – if you dare!
Photo courtesy of YouTube/Epic Meal Time via DailyMail.co.uk.