Holy cow, it's spring!
Are you as happy as I am that winter is over? I do like the changing seasons, but I wish winter just lasted – say – two weeks or so. That would be perfect.
But, thankfully, the long-awaited spring is here and I can't wait to cook up some delicious spring recipes.
And you know that "spring recipes" translates to "steak recipes," right?
I mean, it's warmer weather so I will be out at my grill as much as possible soaking in the sunshine and filling the air with the aroma of grilling steaks.
That is perfection.
The number one recipe I'm going for this spring is Filet Mignon with Herbed Butter. It's a light/smaller cut and it's just right to get our feet wet with for spring. This recipe specifically calls for a Crown Filet Mignon, which is a generously thick cut (like around two inches tall)! Yum!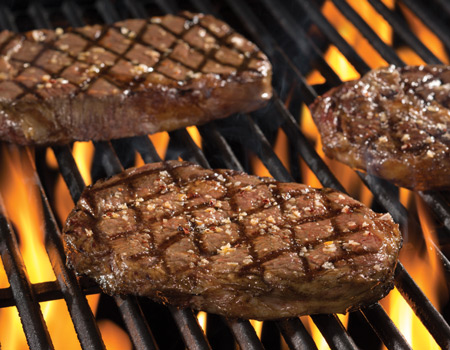 Now, my favorite cut of steak is the almighty ribeye. I love its meaty flavor, marbling and texture. It just speaks to me. So you know I will be springing into spring with some ribeye. Perhaps I'll try this recipe for "Tangy & Sweet" Ribeyes in a Pomegranate and Wine Marinade. Doesn't that just SOUND refreshing? Imagine how it tastes! Well, don't imagine, try it!
Another recipe I'll test out for spring calls for pan searing some Kansas City Strips and then cooking in the oven for a few minutes and creating a delicious salad with some pretty fierce ingredients like jalapeno peppers and lime juice. Check out this Jalapeno Steak Salad recipe for yourself and see if you're up for the challenge, too!
What recipes get you excited for spring? Try them out this week and really usher in the season right – I know I will! I've been waiting for this for months and months!