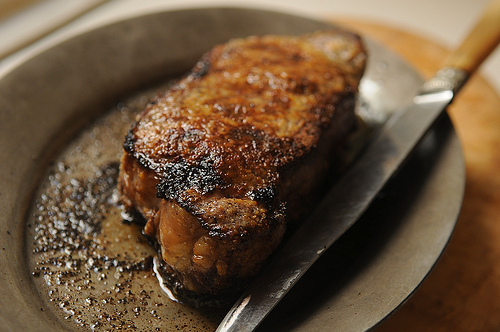 You know you want it.
It's calling out to you.
"It's the weekend," the steak says. "You can't get through it without me."
"But it's cold outside and it's November and I'm tired and football will be on," you say.
"Exactly," says the steak. "You need me. Just put me in the broiler. Piece of cake."
"All right," you say. "But if you're high maintenance, so help me…"
"You won't regret it. Seriously," steak says. "Have I ever steered you wrong?"
As if in a trance, you walk to the freezer to defrost some strip steaks.
Now that the steak has convinced you to give it a try and you've gotten over the fact that you just had a conversation with a steak and it used the word "steer," you might need some instructions.
Here's an amazing recipe for broiled steak with garlic and mustard. Mmmmmm.
It calls for Kansas City strips, so give your taste buds a Kansas City treat this weekend.
Photo courtesy of Food52.com.