So we went to a lovely restaurant to celebrate my mom's birthday this weekend (Hi, Mom!). I, of course, ordered a steak — ribeye with a garlic mushroom sauce to be exact.
And this time, instead of my safe bet, the baked potato, I went for the steak fries. Pommes frites, as the French call them.
Or are they just French fries?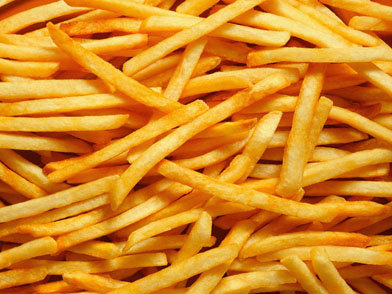 I must admit, I felt a bit uncouth ordering them. I mean, this is what I eat when I'm forced to spend an afternoon at McDonald's. Don't get me wrong, I LOVE those fries, but this was a nice, fancy meal. Should I have ordered fries?
They were well presented on a plate with a black folded napkin and sprinkled with parsley on top. And the flavor was out of this world.
But I just felt kind of cheesy. Is it just me?
Now, I've eaten at some lovely restaurants in France and they have these same scrumptious potatoes there. Hence, the name French fries. Yeah, I knew that. But have we fast-foodized them so much so that I feel goofy ordering them in the kind of restaurant where they got their start? Even if I ordered them with a ribeye?
See that photo above? It came from a Pommes Frites fan page on Facebook. Yes, there's a Facebook page dedicated to these babies.
It has over 58,000 fans. Do they seem embarassed?
Um, no. What do you think??
58,000 fans (and counting) can't be wrong . . . right?
Photo courtesy of Facebook.com/pages/Pommes-Frites.