This weekend, the hubby and I got to go out and feel what it's like to be people for just a little while again. You know, instead of slaves to a 7- and 5-year-old. (Whom we adore, but must escape from sometimes to realize that.)
We dropped the kids at my parents' house and they never even looked back. The prospect of the rapt attention of Grandpa was just too overwhelming for them. And with a wink from Nana, we were off.
We briefly discussed heading for the U.S./Mexico border but decided by the time we got there we'd miss 'em again.
So we settled for a steakhouse.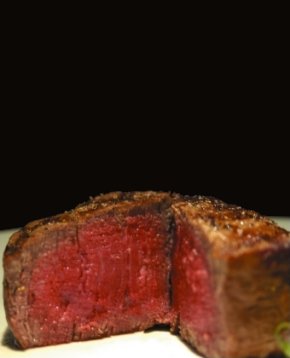 Now, we usually like to cook our own steaks at home. But it was time to get out of the house so we decided we'd let someone else try to live up to our standards.
Good luck.
The ambiance was nice, and there was live piano music — something that doesn't happen at my house unless I want to play with my feet while I cook dinner.
The wine was flowing and we got to talk about how we're going to achieve all the goals we've set for ourselves and our family. Not an easy feat. But with a plan, we're on our way.
When the food came, it was, I'll admit, delightful. But it was missing the one ingredient I always use at home — Teriyaki sauce.
I know it's weird, but that's the way I like it.
How do you like yours? Can a steakhouse ever deliver what YOU'RE looking for?
Photo courtesy of parkcitiesprime.com.