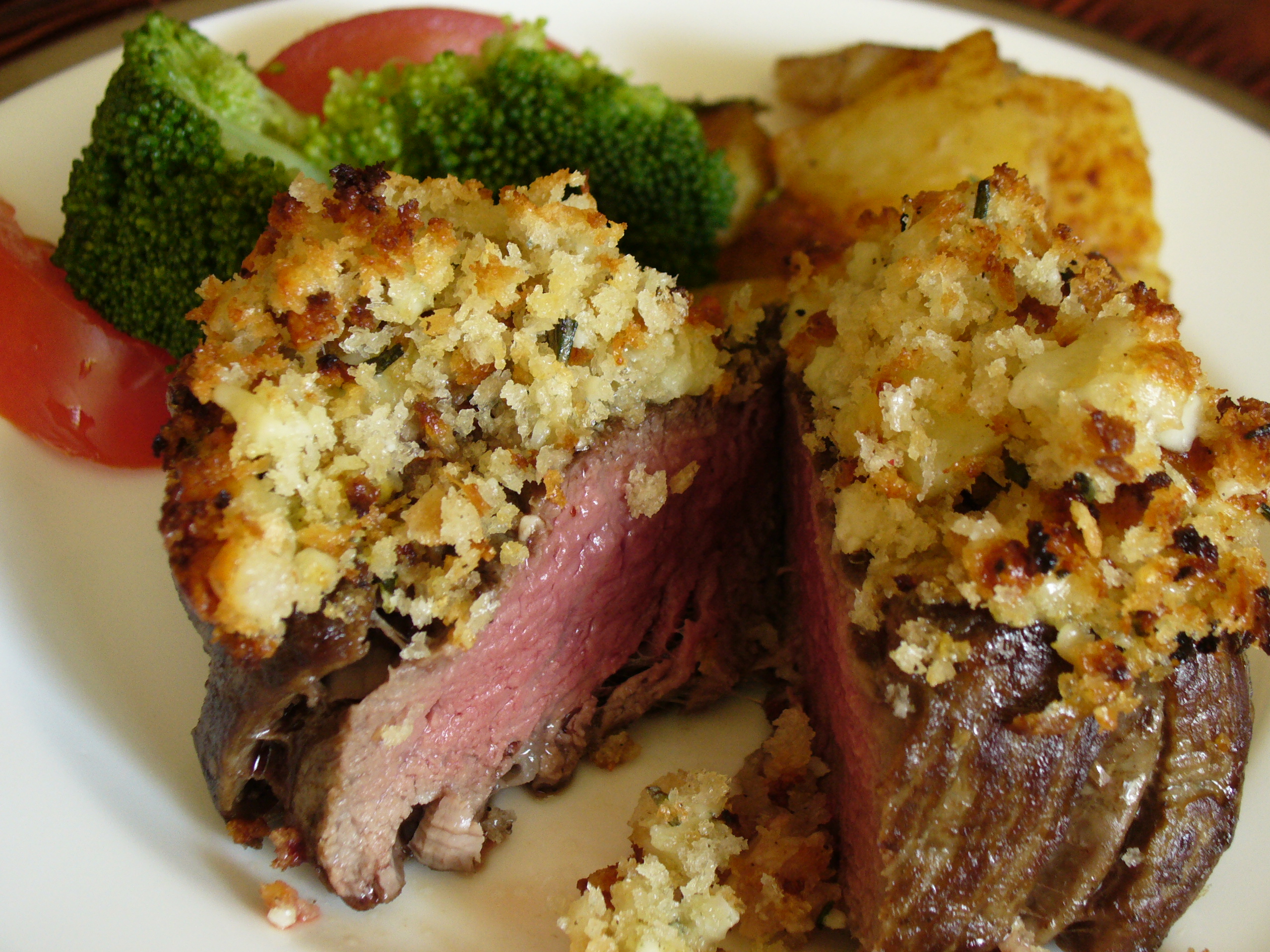 So, a couple of weeks ago I received a question from a reader asking about a recipe for a filet mignon encrusted in bleu cheese.
This, of course, was a new one on me so I posed the question to Super Sister-in-Law Chef  Sandy.
And, as expected, she used to prepare this delectable dish when she toiled in the kitchen of the Ritz-Carlton.
Here, she shares her secrets for making it just like the pros!
(And check out that picture she took — isn't it to die for???)
Here's what she has to say . . .
Recently I was asked a question about how to make a bleu cheese crusted filet like someone's favorite restaurant did it.  There are several ways to do this, depending on the outcome you are looking for.

You can simply cook your steak to desired doneness via any combination of direct and indirect cooking that works for you (sauté/oven, over the hot coals/on the side) and then simply top the steaks with bleu cheese for a moment, just like you would top a cheeseburger, thereby insuring a gooey topping.  Or, you could put the whole thing in a fiery hot oven which would brown the cheese.  My favorite method is the one below. You make a cheese crust, using breadcrumbs, butter and seasonings, in addition to bleu cheese.  You could even add pecans or walnuts to this versatile topping, or substitute another cheese if you like.  Just keep the ratio about ½ breadcrumbs and ½ other stuff.  Plus enough melted butter to hold it together. This mixture is finished on top of the steaks and you get a crunchy, cheesy topping which I think is a great contrast to the very tender steak.
Bleu Cheese Crusted Filet of Beef
2 5-6 oz Tenderloin of Beef Steaks (Filets)
Salt and Pepper
½ cup panko (Japanese style) bread crumbs, or fresh breadcrumbs
1 Tbsp butter
½ tsp garlic or onion salt, or
1 tsp kosher salt, if desired
4 turns fresh ground pepper
1 teaspoon minced fresh herbs, such as rosemary or parsley
½ cups crumbled bleu cheese
1 teaspoon Dijon-style mustard
Canola or Peanut Oil, for searing
Allow the steaks to set at room temperature for about 30 minutes to equalize the internal temperature for more even cooking.
Meanwhile, prepare crumb topping:  Combine panko or fresh bread crumbs and cold butter in microwaveable bowl.  Season with flavored salt or kosher salt and pepper.  Heat on high in microwave until butter melts, stirring every 30 seconds to distribute the browned crumbs.  Remove from microwave, allow to cool for a few seconds and add the herbs and bleu cheese.  Use a fork to distribute the bleu cheese into the crumbs without making it into a paste.  Taste for seasoning, set aside.
Preheat oven to 500°F.
Just before searing, season the filets with salt and pepper.
To sear the meat, preheat shallow sided sauté or frying pan over medium high heat until it is very hot.  Add 1 teaspoon canola oil and heat until the oil is shimmering.  Without crowding them, carefully add the steaks to the hot pan.  Do not move them for about 90 seconds, in order to ensure a nice crust.  Using tongs, carefully brown all sides of the steak, each time allowing the crust to form before disturbing the steaks.
When well-seared, remove steaks to an open baking pan to rest until the final cooking.
Everything may be prepared ahead up until this point, as much as a day in advance.  Allow steaks to come to room temperature if they are cooked ahead and refrigerated.
When you are about 10 minutes out from serving time, finish the steaks in the preheated oven. The time this will take will depend on the doneness you desire and the thickness of your steaks.  For the 6-oz filet pictured, which was a traditionally shaped (i.e. tall) filet, prepared medium rare, about 8 minutes of total oven time was required.
First, put the steaks into the oven for 5 minutes without topping.  Then remove from the oven and carefully brush mustard onto steaks to allow the crumb mixture to adhere. Just a thin coat — you may not need all of it, depending on the surface area to cover.  Then simply divide the crumb mixture over the steaks and return to the oven.  Watch carefully, they will burn quickly.  Check after 2 minutes; my steaks took about 3 minutes to get the topping brown and bubbly.
Allow the steaks to rest a minute as you prepare the plates for service, then serve and enjoy!