Oh, the flavors!
The colors!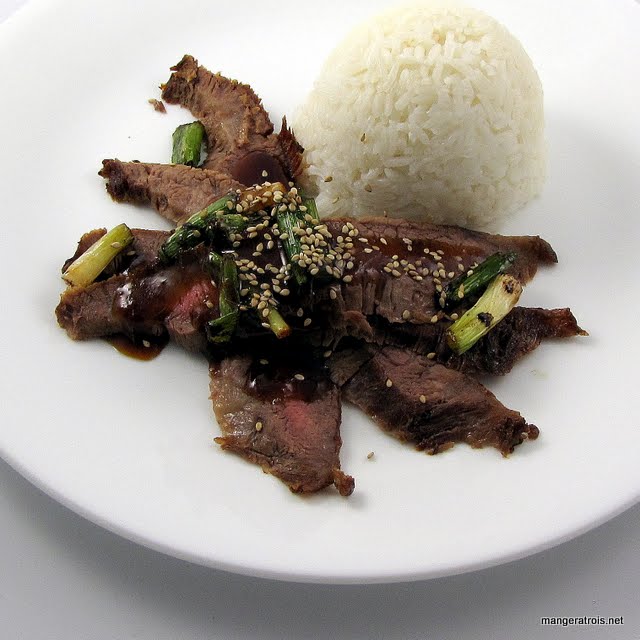 Isn't that what we all like about a great meal? A total sensory experience?
Presentation counts, man. And this one does it up right!
Check it out . . .
Teriyaki Flank Steak With Green Onions
Ingredients
1/2 cup soy sauce
1/3 cup sugar
2 tablespoons rice vinegar
1 tablespoon fresh ginger, grated or minced
1/4 teaspoon red pepper flakes
1 teaspoon cornstarch
1 flank steak (about 1 1/2 pounds)
2 tablespoons vegetable oil
12 green onions, cut into 1-inch lengths
2 teaspoons sesame seeds, toasted
Instructions
1. Whisk soy sauce, sugar, vinegar, ginger, pepper flakes, and cornstarch in medium bowl.  (Or use a handheld blender to blend.)
2. Pat steak dry with paper towels. Heat 1 tablespoon oil in large nonstick skillet over medium-high heat until just smoking. Cook steak until well browned and cooked to desired doneness, 4 to 6 minutes per side. Transfer to cutting board and tent with foil.
3. Add remaining oil and green onions to empty skillet and cook until lightly browned, 2 to 3 minutes; transfer to bowl. Stir soy sauce mixture and any accumulated beef juices into skillet and simmer, scraping up any browned bits, until thickened, 2 to 3 minutes. Slice beef thin on bias against grain. Transfer to bowl (or serving platter) and toss with sauce, green onions, and sesame seeds. Serve with rice.
Note: To toast sesame seeds, cook them in a dry skillet over medium heat, stirring often, until golden and fragrant, about 5 minutes.
Photo and recipe courtesy of Mangeratrois.net.