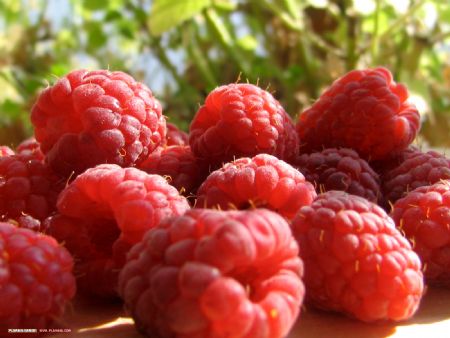 This one sounds different.
I can honestly say I've never eaten raspberries and figs on my steak before. I just never thought about it.
But why not?
I love raspberries and figs give good flavor. Plus, blue cheese does wonders for steak. Why not combine them all?
You try it, too, and let me know what you think!
Steak with Raspberries, Figs and Blue Cheese 
1 cup red raspberries
3 tablespoons sugar
2 tablespoons balsamic vinegar
1 tablespoon olive oil
1 small red onion, thinly sliced
8 large or 16 small figs, quartered
2 ounces ham, chopped
1 teaspoon finely chopped fresh rosemary
3/4 teaspoon garam masala
1/2 teaspoon freshly ground black pepper
8 boneless ribeye or beef tenderloin steak, about 2 1/2 pounds total
Salt
6 ounces blue cheese, crumbled
Prepare a hot charcoal fire or preheat a gas grill on high, or preheat a broiler. Lightly oil the grill rack or broiler pan. 
In a small saucepan over medium heat, combine the raspberries, sugar and vinegar. Simmer for 10 minutes, or until reduced by half. Set aside. 
Meanwhile, heat the oil in a medium skillet over medium heat. Add the onion and cook for 5 minutes or until soft. Add the figs, ham, rosemary, garam masala, and black pepper. Cook for 5 minutes, or until the figs are very soft. Set aside and keep warm. 
Season the steaks generously with salt and pepper. Grill or broil the steaks for 12 minutes, turning once, or until a thermometer inserted in the center registers 145 degrees F for medium-rare.
Place each steak on a plate. Top with an equal amount cheese and cover with some of the fig mixture. Drizzle a few tablespoons of the raspberry sauce over all. Serve the remaining fig mixture on the side. 
Recipe courtesy of newsobserver.com.
Photo courtesy of greenopia.com.