Want to try something spicy this weekend?
TV host Sara Gore gives us her take on a tasty, tasty chimichurri sauce for a tender strip steak.
Uh, yum. Double yum.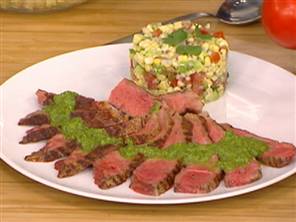 Give it a whirl!
Grilled New York Strip Steak with Kickin' Chimichurri
Sara Gore
INGREDIENTS
Steaks
• 4 New York strip steaks, patted dry
• 1 teaspoon salt
• 1 teaspoon pepper
• 1/2 teaspoon cayenne
• 1/2 teaspoon cumin
• Olive oil for pan
Kickin' chimichurri sauce
• 2 shallots
• 2 cloves garlic
• 2 jalapenos
• 3 tablespoons lime juice
• 1 teaspoon red wine vinegar
• 2 cups parsley
• 1 cup cilantro
• 1 cup mint
• 3/4 cup olive oil
• Salt and pepper
Guaca "maiz"
• 4 ears of corn (parboiled, drained, ice bathed, and removed from cob)
• 2 avocados, medium dice
• 1 jalapeno, minced
• 1 clove garlic, mashed into paste with pinch of salt
• 1 tomato, medium dice
• 2 tablespoons cilantro, chopped
• 1/3 cup red onion, small dice
• 1 teaspoon salt, adjust to taste
• Juice of 1/2 lime
DIRECTIONS
Steaks
Mix together spices in a small bowl. Sprinkle evenly over strip steaks. Heat oil in a heavy sauté pan over medium-high heat. Add steaks and cook 4-5 minutes per side or until desired doneness (120 degrees for rare and 125 degrees for medium rare, using an instant-read thermometer). Transfer to a cutting board and tent with foil.food processor, slowly adding oil in at the end. Season with salt and pepper. Set aside.
Kickin' Chimichurri Sauce
Pulse first three ingredients until well combined. Wipe down sides. Add remaining ingredients in.
Guaca "Maiz" — A Corn and Guacamole Salsa
Gently fold all ingredients together in a bowl, keeping the avocado intact. Season to taste.
Plating options: Slice the steaks across the grain and fan out on plate. Spoon chimichurri over the steaks. Use a metal round or tuna can with both sides removed with can opener, and fill with guaca "maiz." Remove metal round. Top with a piece of cilantro. Enjoy!
Recipe and photo courtesy of today.msnbc.com.