When it's really hot outside and it's lunch time, I want something light — not heavy — but still really, really satisfying.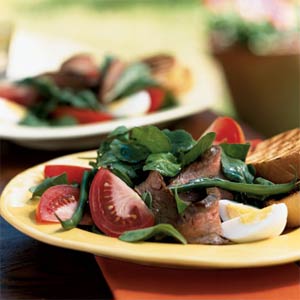 This Summer Steak Salad recipe hits the spot. Ah, refreshing!
Check it out! 
Summer Steak Salad
This entrée highlights some of the freshest flavors of the season, including tomatoes and basil. Flank steak, sliced thin, lends itself nicely to salads.
Yield
4 servings
Ingredients
                               1  (1-pound) flank steak, trimmed
                               1/2  teaspoon  salt
                               1/4  teaspoon  freshly ground black pepper
                               1/2  pound  haricots verts, trimmed
                               Cooking spray
                               8  (1/2-ounce) slices French bread
                               2  tablespoons  white wine vinegar
                               1  tablespoon  water
                               2  teaspoons  extravirgin olive oil
                               1/4  teaspoon  salt
                               1/4  teaspoon  freshly ground black pepper
                               1/8  teaspoon  sugar
                               6  cups  trimmed arugula
                               1  cup  torn fresh basil
                               4  medium tomatoes, each cut into 6 wedges
                               2  hard-cooked large eggs, each cut into 4 wedges
Preparation
Sprinkle both sides of steak with 1/2 teaspoon salt and 1/4 teaspoon pepper. Let stand at room temperature 20 minutes.
Cook haricots verts in boiling water for 2 minutes or until crisp-tender. Drain; rinse under cold water. Drain.
Prepare grill.
Pat steak dry with a paper towel. Place steak on grill rack coated with cooking spray; grill 5 minutes on each side or until desired degree of doneness. Add bread to grill rack; grill 2 minutes on each side or until lightly browned. Remove steak and bread from grill. Lightly cover steak with foil; let stand 10 minutes. Cut steak diagonally across the grain into thin slices.
Combine vinegar and next 5 ingredients (through sugar) in a medium bowl; stir with a whisk. Add haricots verts, arugula, and basil to vinegar mixture; toss well. Place about 1 1/2 cups arugula mixture on each of 4 plates. Top each serving with 3 ounces steak, 6 tomato wedges, 2 egg wedges, and 2 slices grilled bread.
Wine note: With grilled steak, I usually opt for a full throttle cabernet sauvignon. But this is a salad, and the peppery character of the arugula, the greenness of the basil and beans, and the acidity of the tomatoes are more important than the meat itself. So serve this with a bone-dry rosé, which combines the crispness of a white wine with the fruit and body of a red. A fabulous choice is the powerhouse Tablas Creek Rosé 2005 from California's Paso Robles region ($26). -Karen MacNeil
Photo and recipe courtesy of MyRecipes.com.