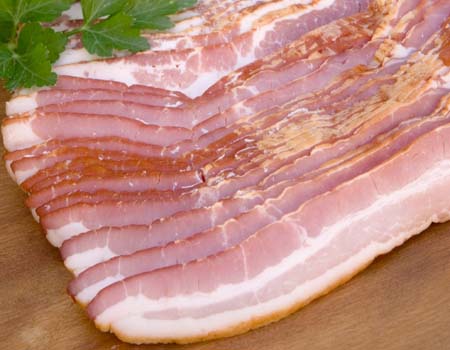 Bacon is surging in popularity.
It's kind of a crazy phenomenon right now, but I'm riding this wave, man!
So it's only natural that some interesting bacon-related recipes might be coming to light. And this one's a doozy.
Maybe you cringed at Elvis' peanut butter and banana sandwiches, but will you feel the same way about a peanut butter and bacon sandwich?
Think about it. There are so many flavors to like here. Why not put them all together?
And, truly, anything with bacon in it is just taken to the next level of awesomeness in my opinion.
So if you're bold enough to try this new flavor sensation, click here to read a killer peanut butter and bacon recipe.
Let me know what you think. I'll still like ya if it's not your cup of tea. And you can always just pull out the bacon and chow down on it alone. No harm, no foul!
Photo courtesy of KansasCitySteaks.com.