THIS, my friends, is what's known as baseball steak. And with the World Series revving up between the Rangers and Cardinals, what better time to serve them as a nod to America's pastime?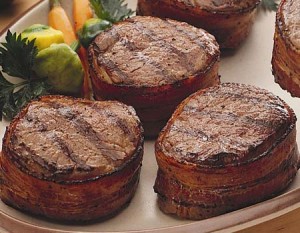 The baseball steak is most often Top Sirloin, at least 2 inches thick, and it gets its name from the puffed up shape it has when it's cooked. Much like a baseball!
Yours can be served with or without bacon, but really, when there's a choice do you really say no to bacon?
Livestrong.com has a great page on several different ways to cook a baseball steak – complete with all the steps and ingredients you'll need. Check it out here.
So get your Top Sirloin out (you can order some great beef here) and let's play ball!