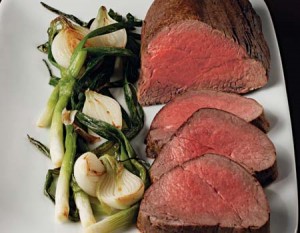 Today is a day when we celebrate all chefs and cooks – National Culinarians Day!
So why not celebrate the home chef in you?
To me, one of the fanciest, most delicious dishes you can make at home is a beautiful Chateaubriand or beef tenderloin roast.
I mean, just look at that beauty!!! It's tender and juicy and so, so, flavorful. I just love its delicate perfection.
Follow this Chateaubriand recipe for excellent results and impress your friends and family for National Culinarians Day!
Slow Herb Roasted Chateaubriand with Red Wine Sauce
Ingredients:
32oz Beef Tenderloin
salt and pepper to taste
20 sprigs fresh thyme
2 sprigs fresh rosemary
Sauce:
5-8 tbsp butter, unsalted, cold
5 shallots, thinly sliced
2 cups red wine, full bodied
2 tbsp red or white wine vinegar
3 sprigs thyme
4 cups beef stock
Directions: 1. Season the chateaubriand generously with salt and pepper and let rest at room temperature for about 10 minutes. While it is resting preheat a 10 inch cast iron skillet over high heat until it is searingly hot, and preheat your oven to 225 degrees
2. Quickly sear all sides of the beef and then remove from the pan.
3. Truss the beef, and then stick all of the sprigs of thyme and rosemary under the trussing. Place in a roasting pan and roast in the oven for about 45 minutes or until internal temperature is 127 degrees. Remove from oven and cover with foil.
4. For the sauce, while the roast is cooking, melt 2 T butter in a sauté pan then sauté the shallots in there until translucent.
5. Add red wine and bring to a simmer and reduce until it is a syrupy consistency, about 10 minutes.
6. Add beef stock and thyme and then simmer until it is reduced to about 1 cup of liquid.
Servings: 4-6
Source: Chef Graham
Photo and recipe courtesy of KansasCitySteaks.com.