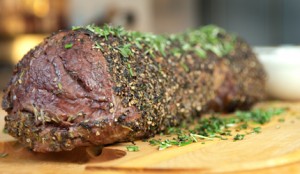 A lot of the holiday madness has died down, but we've still got one more to go – New Year's Eve!
Try this amazing recipe for your dinner party or intimate dinner for two. However you choose to celebrate the coming of 2012, this beef tenderloin roast will make it special!
Order your beef here to make sure it's the quality roast you need and then follow the recipe here for beefy greatness. There's even a horseradish cream recipe to go along with it. You're set!
But get ready now and order your roast soon to make sure it's there before the holiday. Let me know how this wonderful meal turns out!
Photo courtesy of Ben Gebo Photography via ADoctorsKitchen.com.