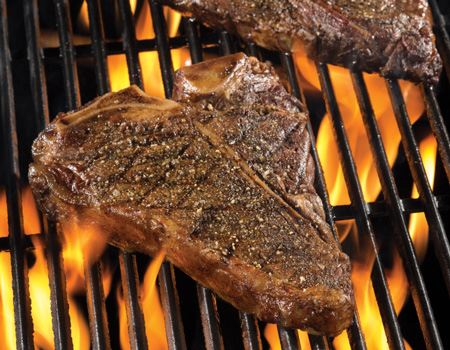 Lots of people think grilling a steak simply means placing steaks on a grill, flipping them once and voila!
Nothing could be further from the truth.
Steak grilling requires preparation, forethought and attention. But if you want a steak to write home about you've got to follow some grilling steak tips.
Check out these Top 10 Grilling Tips from our resident Chef (and grilling expert) whose focus is steak.
Among these crucial tips is selecting the right cut of meat. Did you know some cuts lend themselves better to grilling than others?
I didn't. But now that I've checked out the chart with pros and cons for each cut I get it. It makes a difference!
For instance, ribeyes are great for grilling. Some cuts do not fare as well on the grill.
What are some other grilling tips?
Season early!
Use charcoal!
Take them off the grill early and let them sit.
Don't touch it!
Want to see why these are critical to great grilling and get other chef tips? Check out the article and follow this advice.
Grill the chef's way and you'll see the difference!