At BLT Steak in NY, I was taken aback by the ginormous salt shakers on each table. This place not only allows you to salt your steak — they encourage it!
Check it out . . .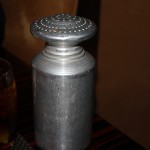 That's a drinking glass behind it. This thing is huge.
I like it when a chef is confident enough to allow the diner to decide how much seasoning should go on their steak. It's very unsnooty.
I'm not offended at my house by this, so why should they be?
I'm thinking of getting shakers like this for my table at home. But I'm afraid my kids would play with them and I'd be cleaning up salt from all over the house.
And where the heck would I store it? I'm low on storage space as it is.
For now, we'll have to live on the memory of these shakers . . . and make do with our teeny, normal-sized shakers at home.
Oh, the humanity!!!!!!!