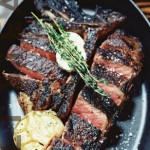 Joe joined in the conversation about where I can find a great steak in NYC and he suggested his fave — BLT Steak on 57th.
So, Joe, that's where I'm going! I will take your word for it and I'll report back here next week.
It's a tough job but somebody's gotta do it.
If the photo here is any indication of what it'll really be like all I can say is, "Thanks, Joe!"
I'm already salivating . . .
Photo courtesy of BLTSteak.com.