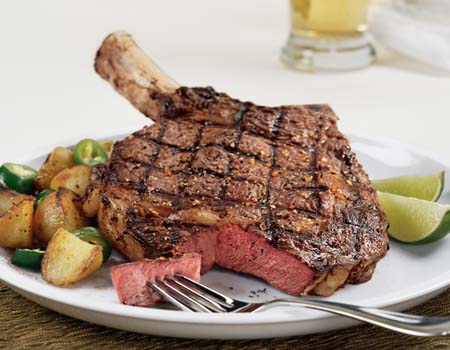 Oh, the glorious ribeye! How I love you!
It's my absolute favorite cut. It's tender, but rich and hearty. Just the way I like it!
With or without the bone, it's sliced from the prime rib. And so, so succulent.
The bone has been rumored to give the meat even more flavor, but for me, I prefer the simplicity of boneless. Beauty is, you get to decide for yourself!
Want to pair a ribeye with a nice wine? Try a Merlot or Cabernet Sauvignon for maximum impact. This wine pairing chart is fun to peruse when cooking a beautiful steak dinner.
Trying out a ribeye soon? Watch the ribeye video on this page. It's a wonderful resource for chef tips and advice on cooking your ribeye perfectly. Check it out and heed this advice! 🙂
And when you're ready to dive in, the ribeye recipes here are to die for! Try your hand at whipping up some Chipotle Buttered Ribeye Steaks or even Spicy Ribeyes Topped with Blue Cheese. You'll be a pro in no time!
All this ribeye talk is making me hungry. I know what I'm having for dinner. How about you?
Photo courtesy of KansasCitySteaks.com.