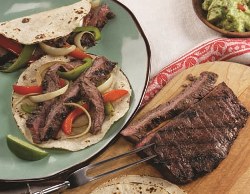 Oh, how I love special days that allow me to focus on food! Beef, in particular.
As you know, I'm kind of obsessed.
So, the fact that Cinco de Mayo is coming up gives me great joy. I can dream up all kinds of beefy delights for that day.
AND, it's my son's birthday! We always get to celebrate doubly in spicy style!
The fifth of May, 1862, is when the Mexican army was victorious over the French in the Battle of Puebla and now it's become a day to celebrate Mexican heritage and pride.
So in honor of Cinco de Mayo I give you cinco recipes you can use to celebrate, too!
UNO:  Delicious, nutritious steak fajitas (above). I mean, who doesn't love steak fajitas? This recipe calls for Kansas City strip steaks sliced up good!
DOS:  Cumin marinated flank steak. A special twist to give your flank steak some zing!
TRES:  Carne asada. A classic.
CUATRO:  Flat iron steak tacos. I love the heartiness of the flat iron beef. Yum!
CINCO:  Flavorful, colorful pico burgers. Try 'em and this may just become your go-to burger from now on. Use Wagyu Kobe beef and you'll be hooked!
Photo courtesy of KansasCitySteaks.com.