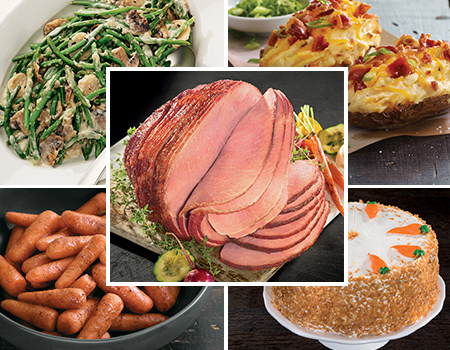 Mid-March is a busy time. If you have kids, spring break is around this time. School and spring activities are in full swing. Maybe work is really challenging right now.
Spring brings a lot of schedule adjustments in my house. And that can be stressful to me – and lots of people around me.
Because of that, I hate to mention one other calendar item, but a springtime holiday is coming up fast. You know the one.
Time to start planning Easter dinner.
What, you say? It's way too early!
Never.
These things have a way of sneaking up on us and then we have to scramble. Trust me, I have a lot of experience with the scrambling. And holidays are not a time you want to scramble.
So, order your spiral ham now. And, if necessary, learn how to cook a spiral ham now. It's pretty simple. But you don't want to test the waters on Easter Sunday. Make sure you have all your ducks in a row beforehand.
See how that extra time might come in handy?
So now that we've all accepted that it's coming up sooner than we think, let's start to think about what's on your Easter ham menu.
For your viewing pleasure, here's a look at mine (I'm in love with it):
Doesn't that sound divine?
I am drooling just thinking about this menu. And shouldn't we aim to make holiday meals extra special? I mean, what other occasions deserve such loving attention to detail?
Planning ahead now will eliminate the stress that weekend. And then, you can just enjoy that time eating a beautiful meal and enjoying the people around you.
Now that's a winner dinner!