The big game coming up requires food – and lots of it.
What will you be making to munch on while two teams who have made it to the championship of all championships battle it out?
It's a lot of pressure . . . on you.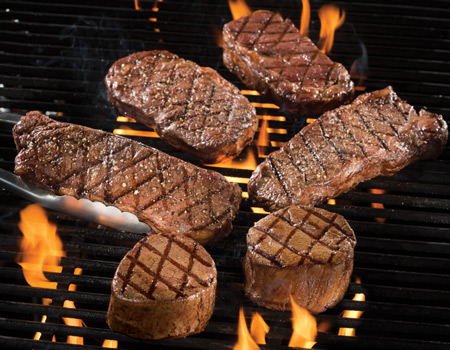 But here are some delicious steak recipes to help you make the most out of this once-a-year fiesta.
Yes, I said STEAK recipes. That's because every big party means steak to me. It's just a natural.
First and foremost, Crab Stuffed Filet is absolutely to-die-for. Beautiful filet mignon is stuffed with lump crabmeat and flavored with amazing spices and garnish. It's really an unforgettable dish. Your guests might even forget there's a football game going on they'll be so enthralled with this recipe.
Be prepared to share your recipe – if you feel generous.
Or, another recipe featuring the amazing, delicate filet mignon is Spicy Bourbon Filets. Seems a fitting tribute to the big game gathering. This recipe includes soy sauces mixed with bourbon, Jalapeno Tabasco sauce and cracked green peppercorns. I told you it was spicy!
There are lots of great sirloin steak options for this party, too. Try a KC Cheese Steak using Top Sirloin sandwich steaks, onions and Swiss cheese. It's ooey, gooey, cheesy and delicious! And this one is served on a sandwich bun. It's always a hit!
Another fantastic recipe using sirloin steaks is the Lemon Herbed Top Sirloin. This one is so easy and provides a great, practical option for those who don't want all the spiciness or cheeses. With lemon zest and Worcestershire sauce seasoning, this one is sure to please even the most picky eater.
With these great recipe ideas, you're sure to have a party for the big game that people will be talking about for a long time – and they won't even mention football!