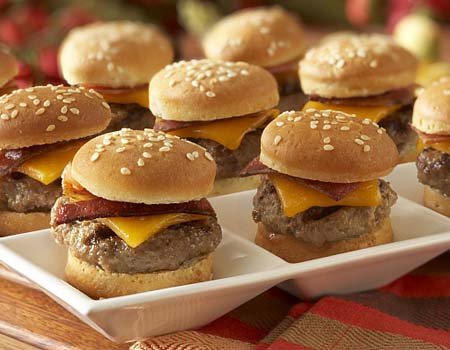 Picture this:  Your friends are all set to come over to your house for the big game this weekend. You've got your favorite jersey ready, the room is straightened up, the TV is all set in the most prominent place. It's shaping up to be a fantastic game-watching experience.
So, what food are you going to serve? Yeah, they will be expecting to eat. They always do. So you can't neglect an integral part of the get-together – munchables!
Believe me, hungry fans get rowdy and you want that energy aimed at the game – and not you. So feed them right… and often!
Before the steaks go on the grill (that's what I like to serve as a main dish when a group comes over – filet mignon, Kansas City strip steak – delish!), you've got to keep them happy. Game time lasts a long time (seriously, hours and hours) and that means appetizers beforehand.
Set out some Applewood Bacon and Cheddar Burger Bites before the main entree. They're just the size you need for people in your home who won't be watching what they're doing – they'll have their eyes on the game. These little bites fit right in your hand and tame that hunger monster.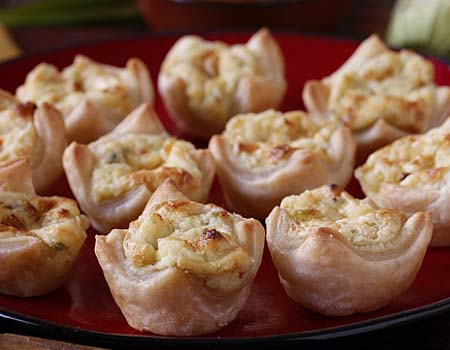 Another winning appetizer for your game day bunch? Jalapeno and Green Chili Kisses. They pack a punch and really rev up those taste buds. Plus, they're bite-sized too!
Looking for something different? Lobster flatbread is a conversation starter and so delicious. Or put out some Bourbon and Cola Mini Dawgs (pigs in a blanket 2.0!!). Big groups absolutely LOVE these!
Appetizers are such an important part of a successful get-together and they're imperative to keeping the hooting and hollering aimed at the TV and the TV only!
So give 'em something to rave about – other than the game! Give 'em appetizers!