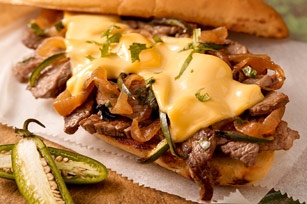 This Garlic Bread Steak Sandwich (otherwise known as Pittsburgh Cheese Steak) was pinned on Pinterest under the title "March Basketball Bites."
I couldn't agree with this representation more. You absolutely NEED something hearty and delicious to carry you through the awesome basketball going on right now.
Even if you're a spectator.
Made with thinly sliced sirloin steak for ultimate flavor, this is much like the beloved Philly Cheese Steak, but with a twist.
Check out the full recipe for Garlic Bread Steak Sandwiches here. And be sure to savor every bite.
Your team needs you!
One bite and you'll know this one is a slam dunk! (Yeah, I went there.)
Photo courtesy of Kraftrecipes.com