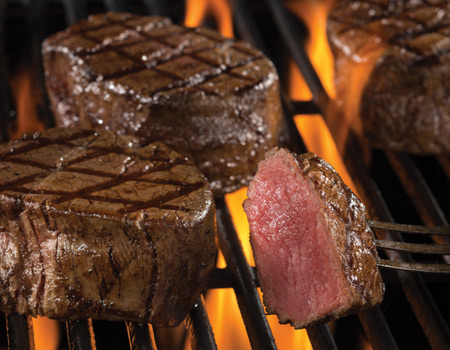 What's the best way to grill a steak?
Depends on the cut.
A filet mignon, for instance, requires extra loving care.
It's tender and should be juicy. Overcooking it is a total waste of time.
Why do it? It ruins an exquisite piece of meat.
Want to know how long to cook a filet to perfection? Check out this informative Steak Grilling Chart. It'll tell you exactly how long to grill each side according to how thick your filet mignon is.
Looking to try a complementary wine? Consult this Wine and Food Pairing Guide. It'll steer you in the right direction, for sure.
I'm thinking something red and sophisticated.
Need tips on how to broil, pan sear or measure doneness? Got your info right here. Along with specific tips for preparing filet mignon like grilling the sides as well as the top and bottom. I know I never thought about that until I read these chef tips.
And once you've become thoroughly educated on the intricacies of the beautiful filet mignon, try this amazing filet recipe for Grilled Filet With Avocado Buerre Blanc. Grilled is how I prefer my filet mignon. How about you?
Grilled Filet With Avocado Buerre Blanc
Ingredients:
4 (6oz.) Filet Mignon
1 cup dry white wine
1/2 cup white wine vinegar
1 shallot minced
1 stick cold, unsalted butter cut into small pieces
1/2 ripe avocado
Directions: Season both sides of steaks with salt and pepper and place on the grill, after three minutes turn a quarter turn. After three more minutes flip and after three more minutes, one more quarter turn and cook for a final three minutes, this will give your steaks perfect "cross-hatch" grill marks and a medium steak.
Using a fork or food processor, mash the avocado into a smooth paste. Put vinegar, wine and shallot in a small sauce pan and reduce over high flame until only a ¼ cup of liquid remains, remove from flame. Strain out the shallot and dispose. Return the liquid to the pan and add the cold butter a piece or two at a time and whisk to melt evenly. Once the butter is incorporated, add the avocado and stir to create a smooth and creamy sauce. If the sauce is too thick, thin with a little white wine. Strain out any lumps and serve with the grilled Filet Mignon.
Servings: 4