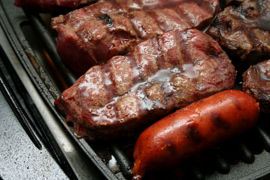 So, it's National BBQ Month. Who knew?
Apparently, lots of people knew – and know. This thing is huge, people.
In celebration of National BBQ Month, here are some hints for making it successful from D Magazine (D as in Dallas – and they know barbecue).
Be sure to heed the advice about when exactly to put those steaks on the grill.
Hint:  Ya gotta give it time.
Click here to see those tips – and click here for more ways to get the most bang for your buck outta National BBQ Month. Let's milk this thing, folks!
I hope YOU go all-out to celebrate this special month. It deserves to be feted!!!
Photo courtesy of WikiHow.com.