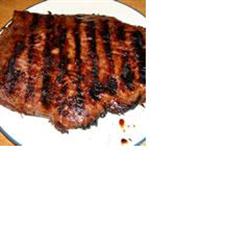 This holiday weekend is a fun time to try out something new on the barbie!
This recipe is for a Spicy Lime-Cilantro Marinated Flank Steak. But, you know you can use this marinade on any cut of beef – just pick your favorite!
I love the mix of onions, garlic and jalapeno chile pepper with lime and honey. This gets my mouth watering thinking of all the flavors infusing my steak.
Heaven.
So take some time this extended weekend and give this one a try. And have a fun, experimental holiday weekend!
Click here to go directly to that spicy recipe!
Photo courtesy of AllRecipes.com.