It's almost Fat Tuesday! Mardi Gras is a time to celebrate and feast before Lent.
Food is such a big part of this fun time and we've gotta do it right!
When you think of a traditional Mardi Gras recipe there's Chicken Andouille Gumbo, Shrimp Etouffee, Creole Fried Rice, Muffulettas and King Cake.
But what if, like me, you're hankering for some beef this Mardi Gras? Well, lucky for us, there's a recipe for that!
Check out this Mardi Gras steak recipe. You can create this using whichever steak cuts you love: Kobe beef, ribeyes – the choice is yours!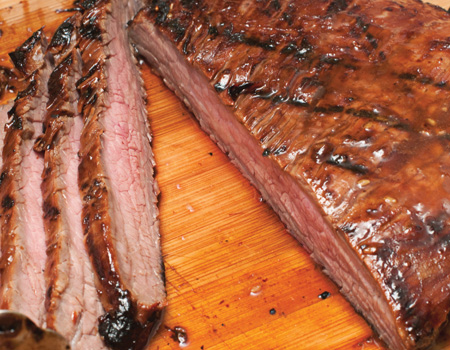 The Original New Orleans Bourbon Street and Mardi Gras Steak
Ingredients:
2 scallions, white and greens, thinly sliced
1/3 cup chopped red onions
2 tbsp. minced garlic
1 tbsp. grated, peeled fresh ginger
1 tsp. minced, seeded jalapeno pepper
1 tbsp. ground coriander seeds
1/4 tsp. each black and cayenne pepper
1 tsp. ground cinnamon
1/2 tsp. vanilla extract
1 tsp. each dried basil and kosher salt
1 packed tbsp. light brown sugar
1/2 cup fresh orange juice
1/2 cup white balsamic vinegar
1/4 cup each red wine, the soy sauce and bourbon into the spice mixture, vinegar, soy sauce, bourbon whiskey and olive oil
4 (8 oz.) Kansas City Strip Steaks
Directions: In a small bowl, combine the scallions, red onions, garlic, ginger and jalapeno pepper. In a large bowl combine the spices, basil, salt and sugar. Whisk the orange juice, both vinegars, soy sauce and bourbon into the spice mixture. Slowly drizzle the olive oil, whisking constantly. Add the scallion mixture and combine. Add the Kansas City Strip Steaks to the marinade and coat well. Marinate in the refrigerator overnight, turning once.
Bring to room temperature before grilling. Grill the steaks over hot coals 3-4 inches from the heat source for about 5 minutes per side for medium rare. Let rest for 10 minutes, before slicing against the grain into 1/4 inch thick slices. To serve, arrange the steaks on a large platter together with sliced tomato, onion, basil and fresh mozzarella salad.
The Salad:
2 large vine ripe tomatoes, sliced thick, 1 red onion, sliced thin, 2 cups of fresh basil leaves, 8 oz. sliced fresh mozzarella. Topped with extra virgin olive oil and sprinkled with white balsamic vinegar.