We've made it to January! Happy New Year! And now, it's back to reality after the beauty of the holiday season.
Yes, the holiday festivities are over but Old Man Winter is still around. January is here, my friends, and with it is cold weather and an often sluggish start.
But don't let that get you down. There's so much to look forward to in the coming year!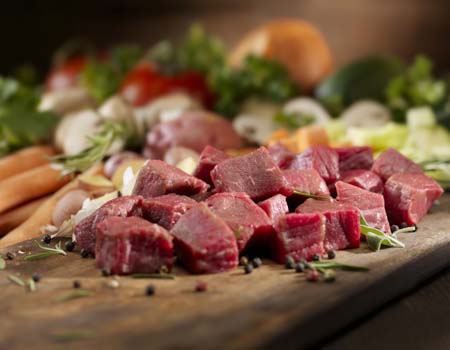 For instance, also with January comes National Soup Month. Now THAT'S the way to perk up the month! It's the perfect time of year to tuck into a hearty soup and warm your belly with an incredible meal. January was absolutely made for soup.
So let's celebrate all things SOUP!
A hearty soup to me means beef. So try a soup this month made with Petite Diced Sirloin – little pieces of heavenly sirloin steak. If you're looking to warm up your insides on a cold day outside, it's steak soup all the way.
My kids love sirloin steak and a soup made with it is a great meal to make for the whole family. I love sharing this around the dinner table. It makes winter nights a bit warmer.
This Beef and Mushroom Soup recipe is another tasty way to celebrate National Soup Month. It calls for Beef Tenderloin Tips, which are cut from delicious filet mignon. Outstanding! And with fresh mushrooms, garlic and sherry, it's a flavor sensation!
THIS particular beef is so, so tender. Great when eating in a soup. I hate using a steak knife while eating soup. It just seems wrong.
Need more soup inspiration? How about a Beef and Vegetable Soup? Delicious. Nutritious. And it's a whole meal in a bowl. I love that!
So what are YOUR favorite soup recipes? Share them with us and we can all celebrate National Soup Month together!