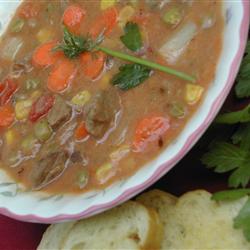 It's cold out and nothing warms us up better than soups and stews at this time of year.
And a soup with steak? Yes, please!!!
There are lots of great steak soup recipes out there, but here's a surefire winner to try — Kansas City Steak Soup recipe.
It's full of beautiful ingredients like carrots, onions, tomatoes, and — of course — steak!
Not in the mood to start from scratch? Try this steak soup mix which even includes the diced sirloin. Easy peasy!
Enjoy your hearty, soupy feast – and stay warm!
Photo courtesy of AllRecipes.com.