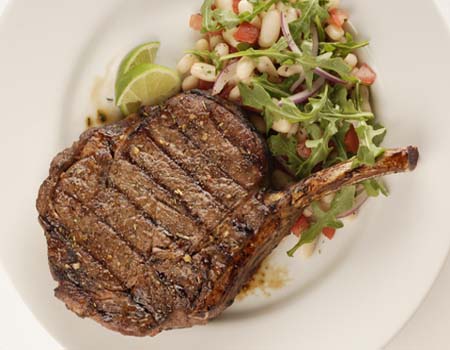 Time to break out some new recipes!
Ribeye steaks are my favorite so this particular recipe speaks to me — LOUDLY.
Bone-in ribeye has that extra punch of flavor I crave, but if you're – say – a filet mignon fan – this recipe could easily be used on that or any cut you like.
The blueberry port sauce is so different and refreshing for eating outdoors and enjoying the scenery.
So get out and enjoy!
Grilled Bone-in Rib Eye Steaks with Arugula and Roasted Tomato Salad
Ingredients:
4 Bone-In Ribeye Steak
20 cherry tomatoes
1 tsp. Dijon mustard
1 tbsp. minced shallot
1 tbsp. balsamic vinegar
2 tbsp. extra virgin olive oil
2 cups arugula
salt and pepper to taste
Directions:
For Bone-in Rib Eye Steaks
Pre-heat charcoal or gas grill to high. Season steaks generously with salt and pepper.
For Arugula and Roasted Tomato Salad
Preheat oven to 350 degrees. Slice cherry tomatoes in half. Drizzle with a little Extra Virgin Olive Oil, season with salt and pepper and toss to coat. Place on a sheet pan and roast in the oven for 15 minutes. Remove from oven and set aside. Place Dijon mustard, shallots and Balsamic in a small bowl and wisk to combine, season with salt and pepper, slowly drizzle in Extra Virgin Olive Oil to combine.
Place room temperature rib eyes on the pre-heated grill. Sear on each side for 4 minutes for medium-rare or longer for desired temperature. Remove from grill and let rest for 10 minutes. While steaks are resting, place arugula and tomatoes in a medium sized bowl, and toss with balsamic vinaigrette. Season with salt and pepper to your taste. To serve, place salad on large platter and top with grilled rib eye steaks. Serves 4.
Filet Mignon with Blueberry Port Sauce
Ingredients:
2 slices Bacon
2 tbsp. minced shallots
2 tbsp. unsalted butter, divided
1/2 cup dried blueberries
1/2 cup port
1/4 cup beef stock
1 1/2 tsp. balsamic vinegar
1/4 tsp. salt
1/8 tsp. pepper
2 tbsp. minced tarragon, plus extra for garnish
4 (6 oz.) Filet Mignons
Directions: In a 10-inch skillet, cook Bacon over moderate heat until crisp (about 4 minutes) and transfer to paper towels to drain. Pour off excess fat from skillet. Crumble bacon and reserve.
In same skillet, melt 1 tablespoon butter over medium heat. Cook shallots in butter stirring until softened. Add dried blueberries, port and beef stock. Simmer over medium-low heat until liquid is reduced by half (about 4 minutes). Stir in balsamic, 1/4 teaspoon of salt, 1/8 teaspoon of pepper, and 1 tablespoon of remaining butter. Transfer sauce to a small bowl and stir in reserved bacon and minced tarragon. Keep sauce warm.
Cook Filet Mignons to medium rare. Place each filet on a plate and spoon over the top. Garnish with tarragon. Serves 4.