So I'm visiting some friends just outside of Boston. It's gorgeous this time of year (and actually any time of year). They have just celebrated the grand opening of their new, larger restaurant with an expanded menu and lots more space.
You can check them out here if you're ever in the area.
I am very proud of them. They ARE the American dream. Hard workers, diligent, caring, committed. I want to be them when I grow up.
Here's their philosophy of life summed up on a wall in their restaurant . . .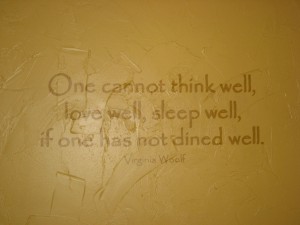 See why I like them so much?
So I go up to the top deck at their house to relax for a moment and just take in the beauty that is Massachusetts. And this is what I see . . .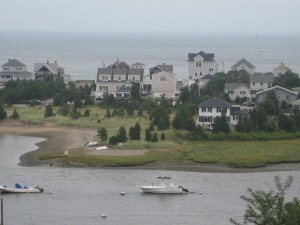 Yes, folks, that's a river AND an ocean. But it gets even better. It was around lunchtime and wafting up onto that deck was the most delicious smell of steaks grilling. I sat looking out onto the water and soaked in the sights and smells. It was surely one of the last outdoor weekends they will have in those parts for a while.
I got so hungry I could hardly stand it. So that night I got my fill of steak skewers. I think I ate my weight in meat.
Oh, but it was so worth it. The water, kind friends, great steak and time to relax.
It's the simple things that make life so great.