No?
Well, I think you're missing out. Check it out . . .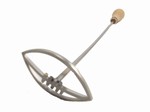 Yes, siree. Our friends at SteakBrands.com have found a way to get our favorite cuts of meat in on the pigskin action.
Freaked out a little? Wait 'til you see the NASCAR brands. And the one that says "Road Kill."
Nice.
Go here to see all your branding choices for your next cookout.
Photo courtesy of SteakBrands.com