I have dreams about steak and I've often wondered whether it's just me . . . or are there other freaks out there?
I think you know the answer.
Here's a dream journal from maybedreams.wordpress.com. Perhaps it will enlighten us all . . .
pwny:
in this dream, i'm eating chicken fried steak with Jazz from the transformers. and i am overwhelmed with the fact that this is the single greatest moment in my life up to that point. i was making sandwiches out of the the CFS, mashed potatoes, and biscuits. a common practice on CFS day.

inspiration: i was 7, and it was the night before chicken fried steak day at school… so i might have been biased.
So there you have it! Chicken fried steak and Jazz from the Transformers. A bit frightening. And tasty all at the same time.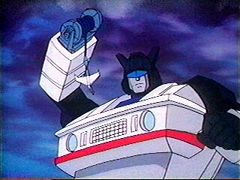 Your friend and mine — Jazz
What does it mean?
Who cares? It's about steak. It doesn't have to mean anything.
Now, go have a great weekend and dream your own dreams about steak . . . and let me know what they are. That way I won't have to pay for therapy.
Photo courtesy of wikipedia.org