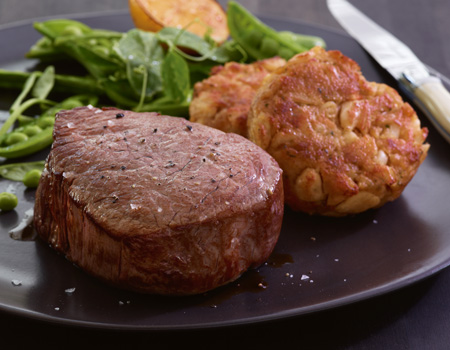 Do you love the beautiful contrast and complement of surf and turf like I do? I adore my steaks, but add a fresh catch to it and I'm REALLY in heaven! It just enhances my steak like nothing else can. When I want to take my mealtime up a notch THIS is what I do.
Surf and turf is something delicious from the sea and another from land. The combination is absolutely extraordinary. That's why it's been a favorite for many, many years.
And this time of year is a great time to experiment with different surf and turf combinations. Fall makes you want to warm up with special meals and seafood and steak really fits the bill.
Fish and seafood are light and delicate – a perfect contrast to the hearty taste and texture of various cuts of steak like filets, strip steaks or ribeyes.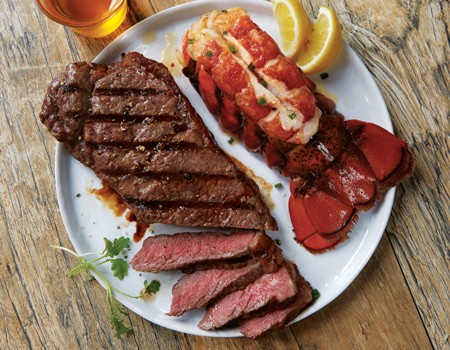 For instance, a Kansas City strip steak paired with a sweet, firm, fresh lobster tail is a real delight – not to mention it makes a gorgeous plate! The two tastes play off each other and, really, isn't TWO better than one?
Another combo that I love? Try crispy crabcakes with a Top Sirloin steak for a nice pairing that really hits the spot. Or a delicious filet mignon and a unique side dish of lobster mac and cheese. Yes! Your "surf" can be a side dish! Genius!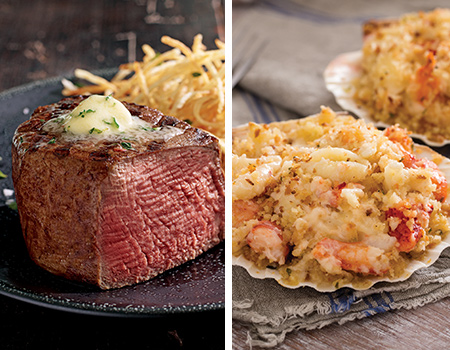 Or how about a little bit of fresh salmon along with your T-bone? Split a piece of fresh fish with your significant other and you'll both get to experience a little bit of the sea with your juicy steak.
Foodies have been raving about surf and turf combinations for eons. Isn't it time we all got on board?
Check out all these surf and turf combinations and then create your favorites at home! What seafood and steak combos do you like?